My Team
I take customer service very seriously. So does my staff. Together, we are committed to providing exceptional customer service to all of our clients.
If you need to schedule an appointment or request any other service, please let us know. We will respond promptly.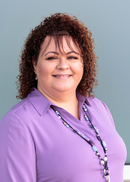 Maria Cristina Bevel
Maria is our Director of Operations and is our client's point of contact for just about everything.  Maria understands that our clients want more than a dependable financial future, they want dependable partners to help them and their family achieve their most amazing future.  She works hard to be responsive and considerate of our clients' wants and needs.  Every day is different and every client has different needs, but she is always working towards a common goal keeping our clients on the right path toward their financial goals!  Maria comes to our team after 14 years in the legal field.

Maria's parents came to this country from Cuba in the 60's and she was born and raised in Miami.  She has lived in California and Arizona and is happy to be back home in Florida.  In her spare time she enjoys traveling, cooking, spending time with her family and her Boston Terrier, Daisy.